Posted by
msdesign21

| Posted in You trippin! | Posted on 06-12-2010
1
Hello everyone! Thanks for checking back on the blog. Lots has happened since our last post, but I guess that is what happens when you don't post all the time!!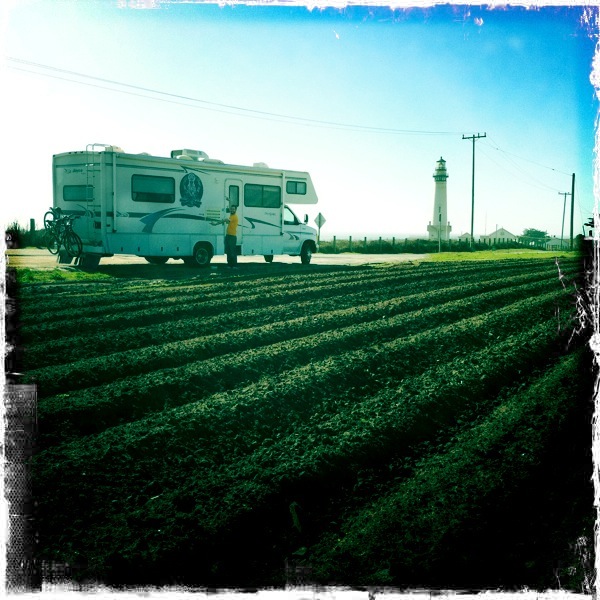 After San Francisco we headed down the CA coast through Santa Cruz, Monterey down through Big Sur. What a drive!! Everything from the Redwoods to the winding road on steep cliffs. 17 Mile drive was definitely worth the $10 toll. It winds its way through Monterey and Caramel. We saw Pebble Beach and many more just as incredible golf courses and even got to take the dogs on a walk on the beach. We watched 12 or so surfers cutting it up on a somewhat chilly breezy day. A "storm" was supposed to be moving in that weekend, so we made our way down the coast in 1 day to avoid driving in the rain.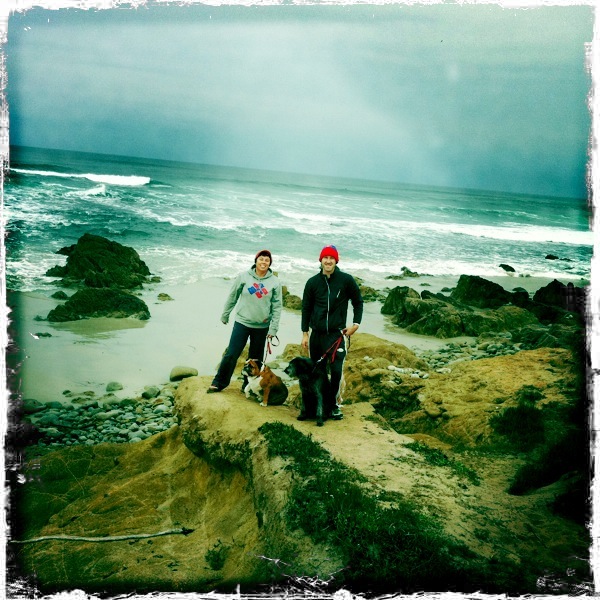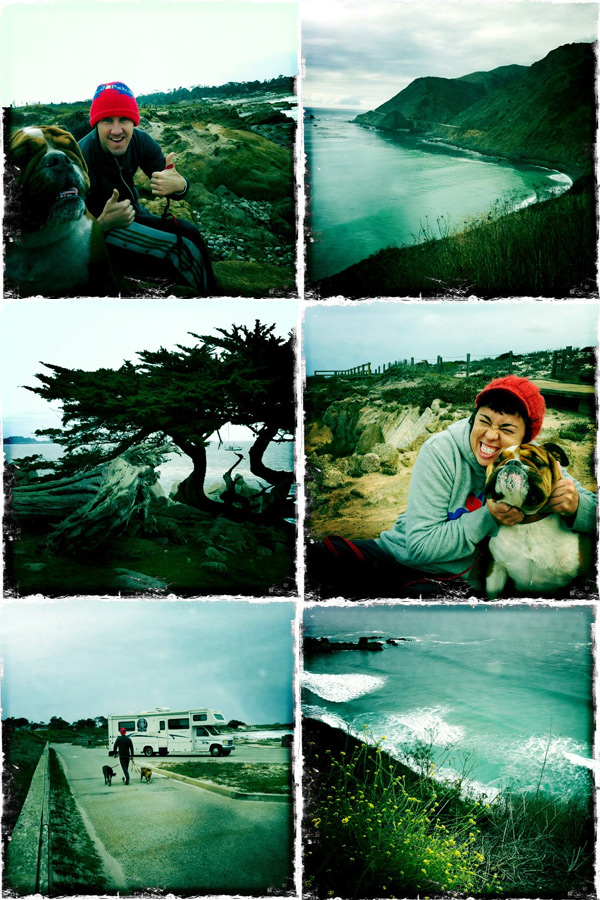 From there we basically cut across CA to get to Las Vegas. We arrived 5 days earlier than we really needed to but casino parking is free and Brian and I wanted to get some poker time in before our fun filled Jayhawk weekend. Brian is going to post more about that and I am sure he will be sure to mention my 2 seconds of fame with 1:32 left in the KU Arizona game.
1 Month in I did a reflective post of our time on the road so I thought it would only be right to do another 4 months in. Not much has changed in the way of our opinion of this trip, which is still "Best Idea Ever". Other than sleeping in too much I am very happy with all our decisions on this trip. Sure there are many, many places I wanted to see but missed, and certain decisions I've made on where we should drive and when that could have been better, but you learn and I just tell myself, we will hit it the next time around. It's nice to know that I have a whole life ahead of me where I will continue to travel and explore and see all of this planet's amazing sights.
So 4 months in what more have we learned?
1. I might have mentioned it before but we use Mint.com now to track all our expenses. It is super helpful to create budgets and categorize your spending such as Gas, RV Parks, Groceries, Restaurants and of course, Breweries. We started using it in Oct and now have 2 months to look back and realize we spend A LOT on food.
2. Continuing along the lines of Mint.com we have been spending a lot more time boondocking (parking while we aren't hooked up) versus paying to park at a RV Park. Typically, we will expect to pay anywhere from $30-$40 to pay to park which will allow us to plug in for electricity, dump the black tank, fill up our water tank and get cable TV. It always seems more convenient to be hooked up in a park when we are trying to work from the road. If we aren't plugged in we can use the lights off battery power and use our 2 outlet inverter to charge all our electronics. I think we stayed in RV parks probably 20/30 days the first month, I think last month we stayed 6 or 7 days. That is a big cost difference.
3. I don't understand how California is struggling so much economically when everything is SO taxed!! The most expensive we paid for gas was $3.69, we would be lucky to find it around $3.26. Now that we are in AZ its $2.56 right around the corner.
4. People are still asking us, what's next and I am happy to say I still don't know! I think uncertainty scares a lot of people but not me. I can tell you for certain that we want to continue this trek for at least 1 more year. Circle back to spend time with family and friends in Kansas and Nebraska once it gets warm again and then go back through Colorado, over to Oregon and back to Cali sometime next October. But in order to continue that long we will have to start making more money from the road. We need at least $3000/month to live comfortably, but could definitely do it cheaper if we had to (which i think we might).
5. Now that we are familiar with our new lifestyle we have been able to spend more time focusing on our own projects. This includes researching the home brew process and working on our new t-shirt store which will hopefully be launching this week. Brian is working on a custom-made sweater company and continues to contract for Popstar.
6. Brian, what have you learned?: "Um, home is where your heart is". haha! I love catching him off guard. A simple man says so much without many words.
7. My favorite places so far have been: visiting my cousins in Denver and Nevada City, Hood River, OR, Fort Collins, CO, Portland OR, and Pacific City, OR.
8. Places we missed so far that we are hitting next time around: Whistler, Canada, Glacier National Park, and Crater Lake, OR.
9. Best beer for me: The Hub, 7 Grain Stout, Portland, OR – Brian's Pick: Coopersmith, Green Chili Ale, Fort Collins, CO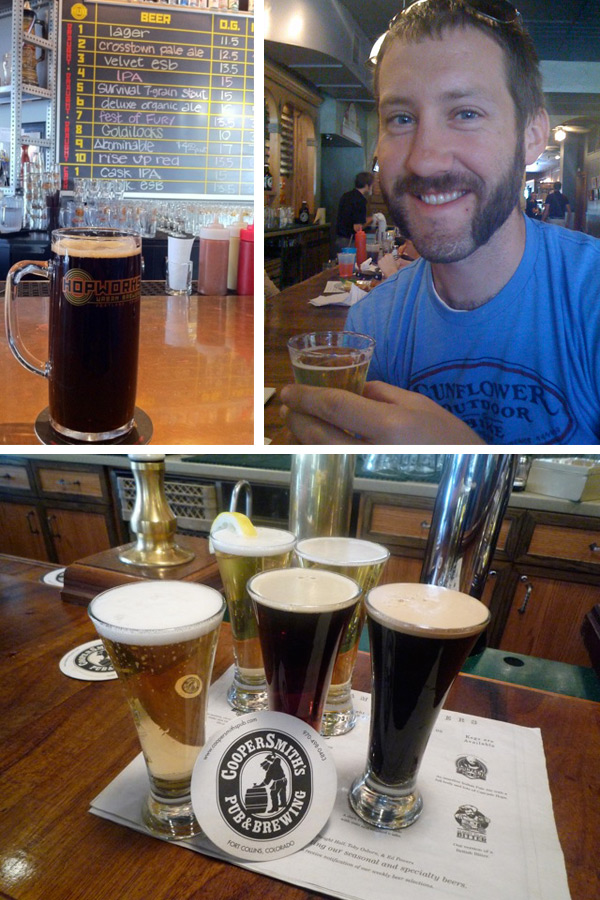 10. Ernie says: "(cue whining sound)" and Buddha says: "if I focus on "walking" at a dog park I generally don't need to bully other dogs around and get in fights". Buddha still hasn't learned to NOT drink the salt water even after puking each time he does it.
Thanks for following once again. I am starting to upload videos now to YouTube so subscribe to my channel here. We are spending the next few days in Lake Havasu and plan to head towards San Diego for the weekend, hopefully catching the Chiefs Chargers game on Sunday, to tailgate with a few friends. Hope you all are keeping warm. Stay in touch we love to read comments from our friends!

Share on Facebook