Posted by
msdesign21

| Posted in You trippin! | Posted on 10-02-2011
4
I had a bit of a revelation this week after enjoying some fantastic beers and even better company. You might have read our last post about Quartzsite, but in case you missed it, I will catch you up. We've recently met fellow full-time RVers working from the road and living the dream. Each has their own stories and versions of how they started and why, but really under it all, it is all for the same reason, freedom. Freedom from the "norm", escaping what you are supposed to be doing and living life the way you want. Once you can accept the realization that you don't have to work a 9-5 to be successful and you have the right skill set and discipline to make a means, a whole new world opens up to you, a whole new way of life. This lifestyle is not for everyone, but it sure is perfect for me.
So back to our new pals. Each have their own "thing". Bill and Debby are the Tahoe Hashers, Jim and Rene are the Tripawd loving owners, Sam and Tracey are the colorful (now all tatted up) Florida burners and Alex and Charon are the fire-breathing, sword-swallowing, super talented, and extremely entertaining duo (not to mention, Charon is the official NuRVer traveling tattoo artist). I am now proud to say, Brian and I have achieved the title of the craft beer loving duo. We are happy to field the question, "so you are the ones traveling around visiting breweries". It supplies great conversation and sub sequential education into the fine art of making and enjoying beer. And I am even more proud to say that I have enjoyed some mighty good beers with each of them, sharing our love of the craft, and even converting a non-beer-liker to a "yeah, I kinda do like that one!!" 🙂 The ultimate success for craft beer and the whole reason for variety. You might not like a bitter, hoppy beer, but the malty dark ones sure do surprise you.
When I was about 10 years old my mom went into rehab, and I was along for the ride. I spent many nights with her at AA and CA meetings hearing stories of how drugs and alcohol ruined these people's lives. I witnessed first hand how alcohol would change my mom from a bubbly, outgoing, energetic spirit, to an ugly, rude and depressed soul. I learned at a young age, alcohol is bad and it will mess up your life. Now that I know better and know my limits, obviously my views have changed, but I still struggle with admitting that I have a passion for beer, fearful for what it could do to my life. Unfortunately, my mom isn't around anymore to help shed light on how her addiction spun out of control in order for me to avoid a similar fate, but I think knowing what a true addict is I am confident that I can control that part of my gene pool probably just itching to break out.
The revelation came this week, enjoying beer with friends and sharing what we have learned on our young journey, becoming educators and being recognized as dare I whisper the word: "experts". I feel a long way off from being an expert, but looking at the recent resume of breweries over the past 6 months, it sure is a good head start to what I feel is a new path in life. Before I was hesitant to say my new path in life might be craft beer, but now that I have immersed myself into the industry and culture, I respect the business model and the hard work each brewery has put into every pint. I can honestly say I don't doubt that the craft beer revolution will be with me for the rest of my life. As Brian so simply puts it, "you will find a different kind of person at a local brewery compared to the local bar. Instead of sad, depressed alcoholics you will find joyful, down-to-earth individuals coming together to cheer on beer."
So that's where I am at this week. Continue to learn about craft beer and start trying to incorporate my love of the art into a passion, just waiting to Crush It. As Season 5 of Dexter would say, "Take It!"
Thanks for following.
You should also check out our new friends blogs if you are interested in learning more about this lifestyle. They have great insight and educational posts that help push me to want to work harder at it.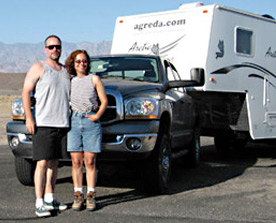 Jim and Rene – LiveWorkDream.com – Seasoned vets, full-time RVing for over 4 years now, they know the drill and have an excellent account of their travels on the blog.
Bill and Debbie – kassonswildride.blogspot.com Excellent post on our time in Quartzsite. Food, friends, cocktails and campfires = good times.
Sam and Tracy – ZenNomads.com – I jabbed them a bit and asked for a new blog post as they haven't posted for over 6 months, but I had to include them on the list.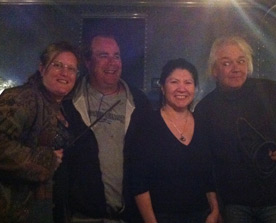 Alex and Charon – far left and far right 🙂http://www.oddangel.com/ – Make sure to check out all their links down the right side of the blog. You can find their podcasts and links to their other websites. If you are looking for a tattoo artist, Charon is excellent at the art!
Kevin and Angie – Last and certainly not least (pictured in the middle) NuRvers.com – I've mentioned it before, but if you are interested in this lifestyle, this is a great resource to ask all sorts of questions and learn from past experiences of our fellow fulltimers. If it wasn't for this site I wouldn't have had the pleasure to meet all these great people to share excellent experiences with.
These will now be in our links list on the right, along with a few other good ones we've found in case you need a reminder.

Share on Facebook