Posted by
msdesign21

| Posted in You trippin! | Posted on 29-07-2010
0
Some people ask, what made you decide to go on this RV adventure? Well, the story goes like this…
The idea was born the last night KU played basketball in the March Madness tournament, March 19, 2010. I was so disappointed in what was a huge upset by Northern Iowa and that night a friend, Johny Arkin, was watching the game with us. (Check out his cool video blog at nevernorm.com) He was talking about his plans to purchase an RV over the summer and ride around for a few months. Well, I just thought that sounds like the coolest idea ever and so it was, come August when our lease was up, it was time to make the road our new home. Needless to say that was the only thing that could have made me feel better about that night. I redirected my attention from our poor performance to how in the hell do I find, afford, purchase and work a RV?!?!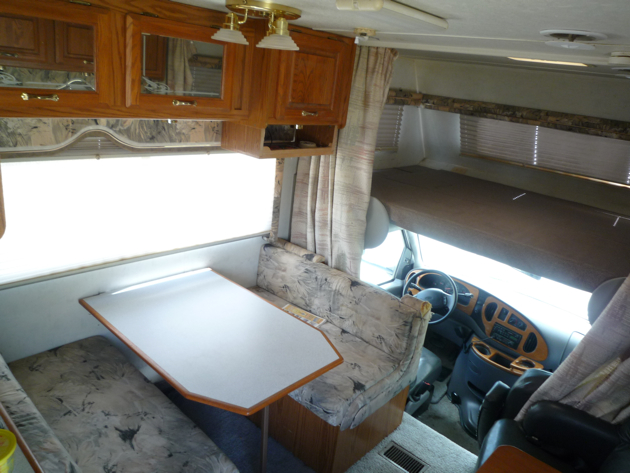 The story gets a little better from here. I spent the following month researching all kinds of RVs on Craigslist. I learned about the A Class (big ASS motorhomes) B Class are the vans and C Class are the slightly larger ones with a van chassis (van in the front, house in the back) with a bed above the cab. I knew there was no way in hell I could call home and say, I bought a van and we are going to live in it for the next 6 months, and the big ass motorhomes kind of intimidated me, so I figured C Class was the way to go. Well, I looked and I looked, from Craigslist Topeka to Wichita to Omaha all the way to San Francisco. I pretty much scoured every large city west and every small city in the midwest. I got a really good idea of exactly what I wanted. There are many different layouts, some with couches, some with double beds in the back, even some with the toilet in the back with no door!! I also got a good idea of price range and knew I could look past a crappy interior if the mechanics were sound.
FF two more weeks… One day Brian and I were driving to softball practice and I was complaining that I couldn't find anything in the area for us to just go look at to get a better idea of size. Then we literally came to a detour in the road, had to take a right and there it was, just sitting on the corner in a parking lot with a for sale sign and all. We called on it and it was pretty much go time from there. We had the mechanics all checked out and two-toothed Gary had told us about a known fix for the generator. Gare-Gare as i like to call him bought the 1999 Jayco three years prior for $27,000 and was originally asking for $14,000, which takes me back to the crappy interior comment. It sure was a mess! He was a smoker, everything was yellowed and covered in ugly laminate. We sure got what we asked for, something to flip with sound mechanics. I talked him down to $10,000 and the rest will be in the following posts.
For now, here are some ugly yellow glimpses of what we were dealing with…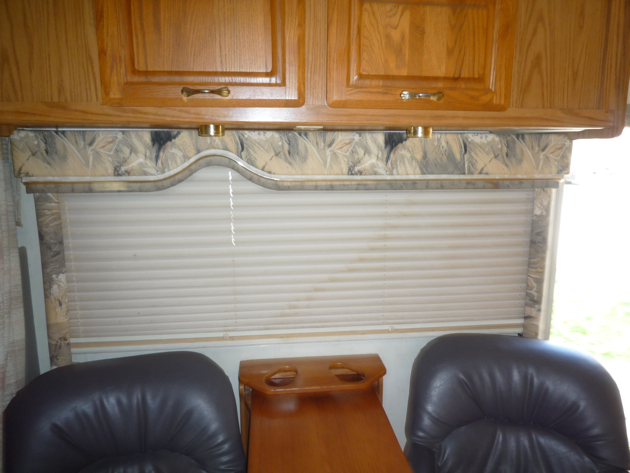 The one nice thing in the RV are those two side chairs. They are super comfy and were surprisingly in good condition.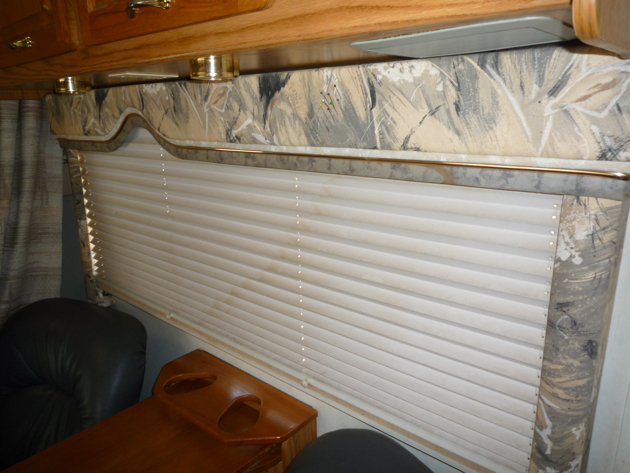 Here is an up-close look at the lovely pattern that was vomited all over the RV. First things first, that has GOT to go!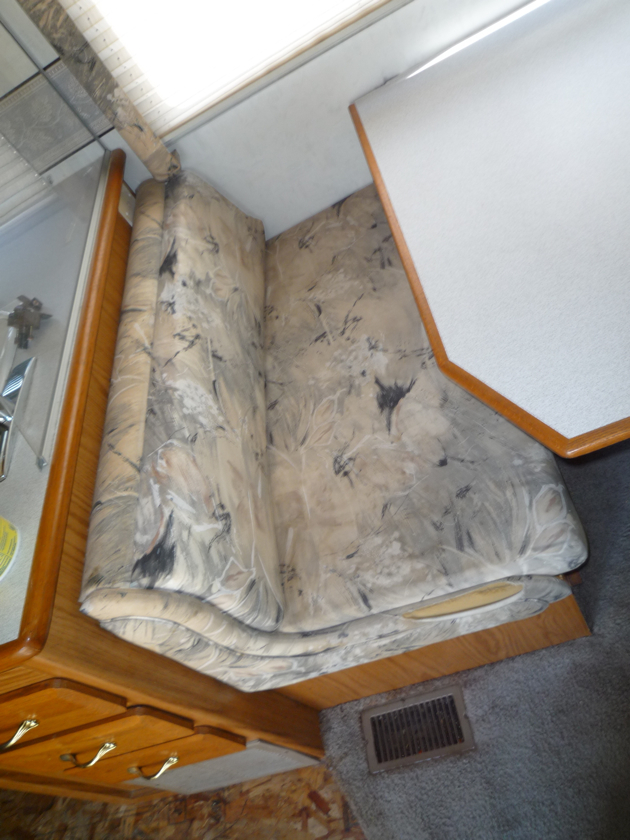 Dinette on the left…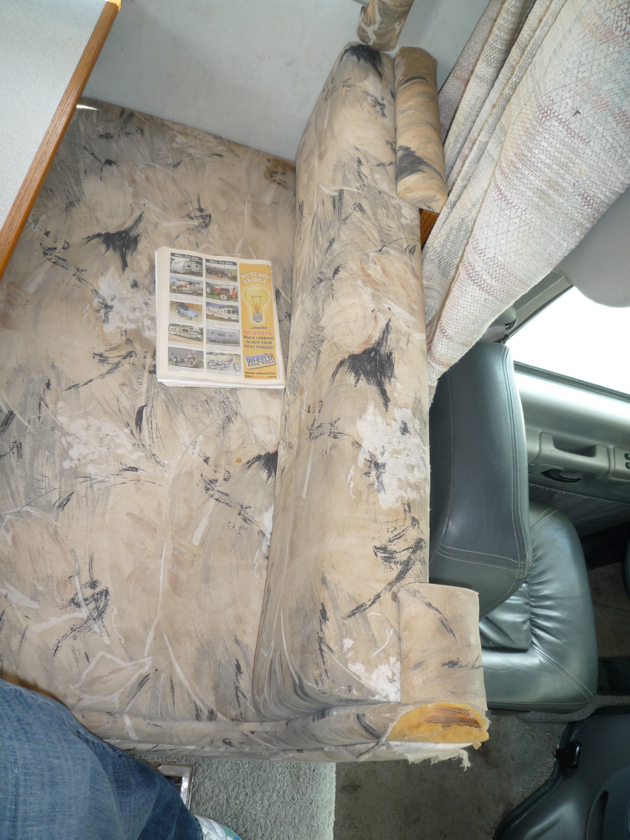 Dinette on the right…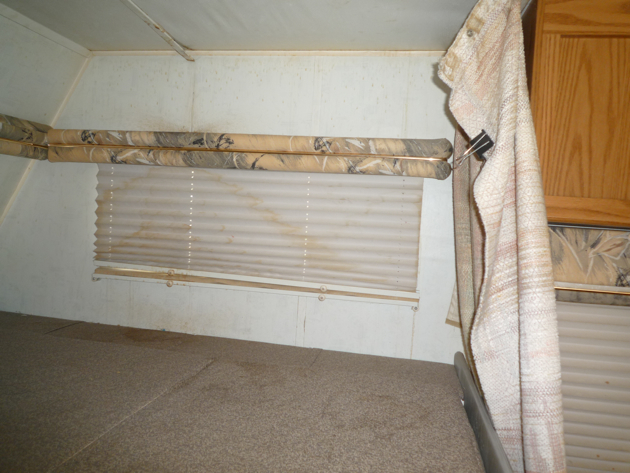 At some point there was a leak on the roof. But before we purchased and after we starting talking to Gare-Gare we had some pretty torrential storms with no new leaks. I think they were able to seal it up a long time ago but since Gare just let it sit for so long it stained the walls and blinds up pretty good.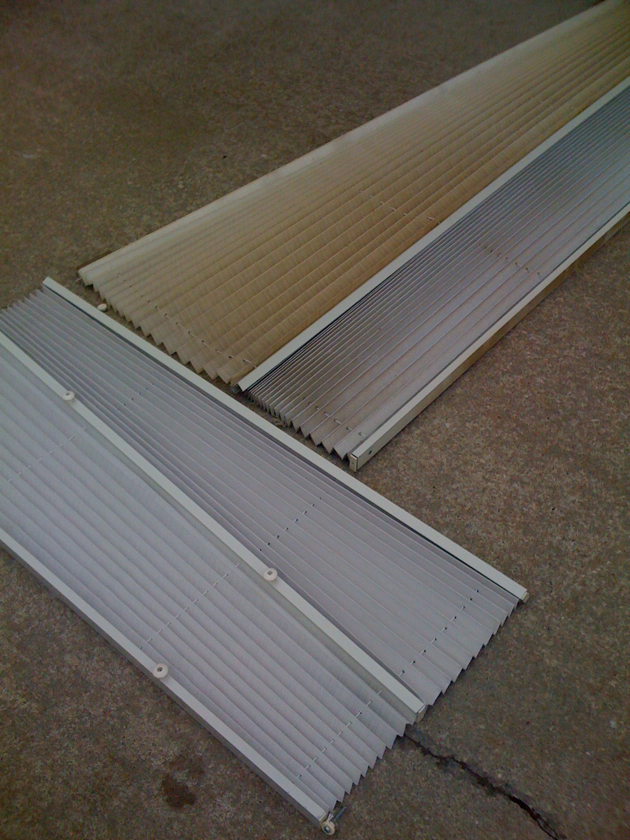 Here is a little before and after for you on the blinds. I never knew smoking could make something so disgusting. Just think what your lungs must look like! Thank god for OxyClean and the many RV blogs I scoured to find that it cleans ANYTHING!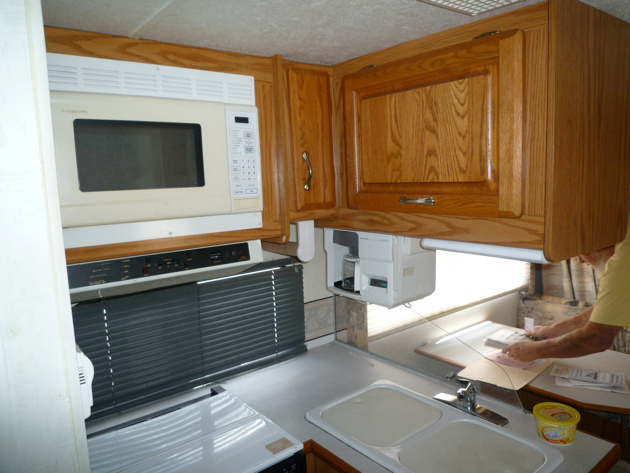 Here is a glimpse of the kitchen, and yes that is Gare-Gare hiding in the back there. Isn't the laminate just to die for! Yeah, I about died thinking of staring at it for the next 6+ months.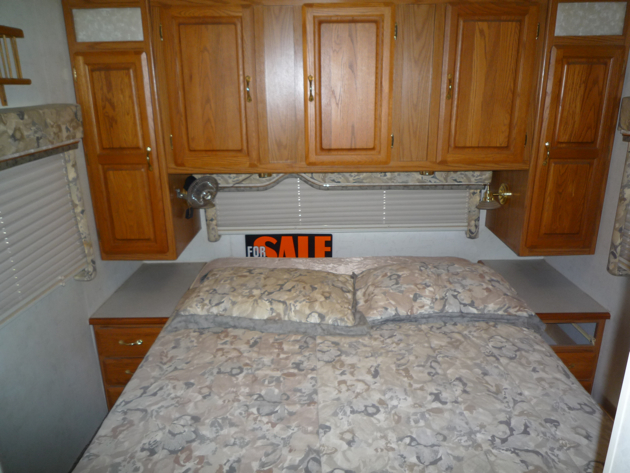 Back in the bedroom, where (I'd like to think with Gare-Gare) NO magic happened.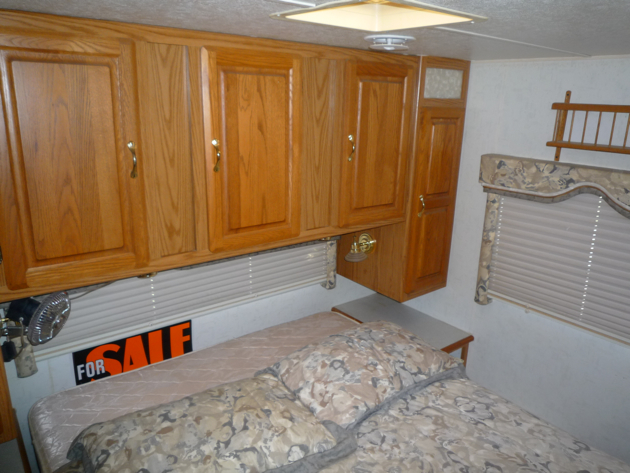 Probably one of my favorite old shots of Stanley. I love the tiny baby jail above the blinds. I mean REALLY?! what the hell is that for and who the heck thought they should put that on a wall. GOT TO GO!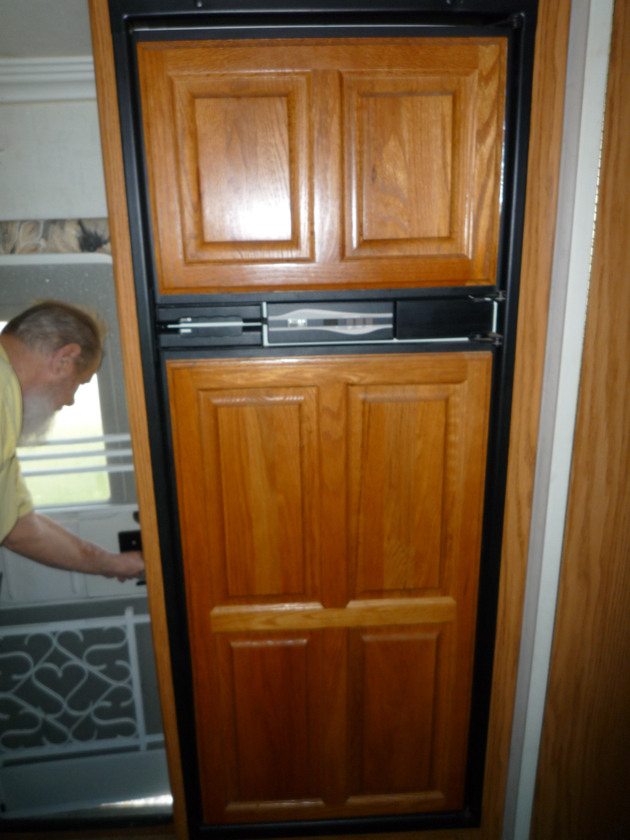 Fridge with an ice maker! And yes, one more shot of the lovely Gary.
Thanks for following!

Share on Facebook