Posted by
Brian

| Posted in You trippin! | Posted on 01-06-2011
3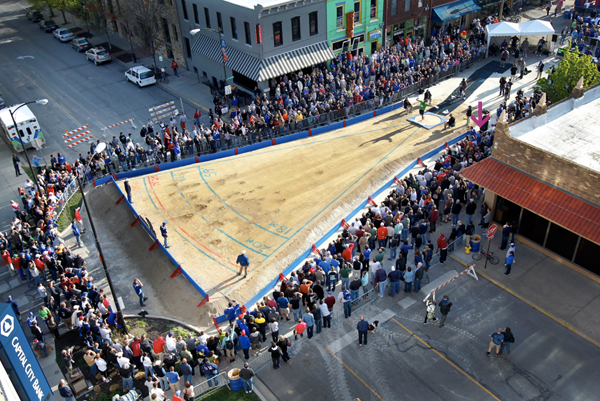 Every year the Kansas Relays draws some of the top track and field athletes in the world to Lawrence, KS. Normally all events are carried out near Memorial Stadium but this year event organizers decided to bring track and field to the people, and thus 125 cubic feet of limestone was laid onto 8th street to erect a shot put pit in downtown Lawrence.
We were lucky enough to be in town when this went down and grabbed some primo spots right next to where the shot-puters were throwing (see arrow). It was quite impressive to some of the top competitors at this sport heaving a solid metal ball down the street. It put my 8th grade shot put accomplishment of 2nd in  the city to shame.
The weather was great and we had enough foresight to fill a back pack full of beers. The only hiccups in the event were a couple throws that approached leaving the puting area and a couple that hit a power line that was hanging a bit too low.
All in all a well spent evening in our home away from mobile home, Lawrence.

Share on Facebook