Posted by
msdesign21

| Posted in You trippin! | Posted on 08-11-2010
1
Well it's finally time for us to head to San Francisco after a much needed relaxing stay in the woods with my cousin Wendy in Nevada City, CA. We've been here for about a week and a half and had the opportunity to hop a flight back to Kansas to surprise my sister at her Delta Gamma sorority initiation. Now, not only are we half sisters, but we are sorority sisters to boot. Awwe, how cute, i know. Well, our trip back also meant we got to hang with our good ol' buddies in Lawrence for Halloween. You know, we've been to a lot of places in our lifetime and I can honestly tell you nothing compares to Lawrence, especially when it comes to basketball season. Brian is going to do a post on our halloween antics, and as for me, well I'm going to back, back, back it up and update you on our past few weeks.
Here is our path since the last post:

After the volcano pass drive we found ourselves in Bend, Oregon. A beautiful little mountain town with some very nice breweries. We only visited 2, Bend Brewing Company and 10 Barrel Brewing Company. Both were worth the visit with great specials on Monday/Tuesday night. 10 Barrel Brewing has a great patio with a fireplace to enjoy your brew outside. After Bend we made a whacky path through the "Painted Hills" John Day Fossil area of Central Oregon. With a little help from my friend Wiki: "Painted Hills is one of the three units of the John Day Fossil Beds National Monument, located in Wheeler County, Oregon. It totals 3,132 acres and is located 9 miles (14 km) northwest of Mitchell, Oregon and 75 miles east of Bend. Painted Hills is named after the colorful layers of its hills corresponding to various geological eras, formed when the area was an ancient river floodplain."
The black soil is lignite that was vegetative matter that grew along the floodplain. The grey coloring is mudstone, siltstone, and shale. The red coloring is laterite soil that formed by floodplain deposits when the area was warm and humid.
An abundance of fossil remains of early horses, camels, and rhinoceroses in the Painted Hills unit makes the area particularly important to vertebrate paleontologists.
But here were a few of my Fav's I was able to snap: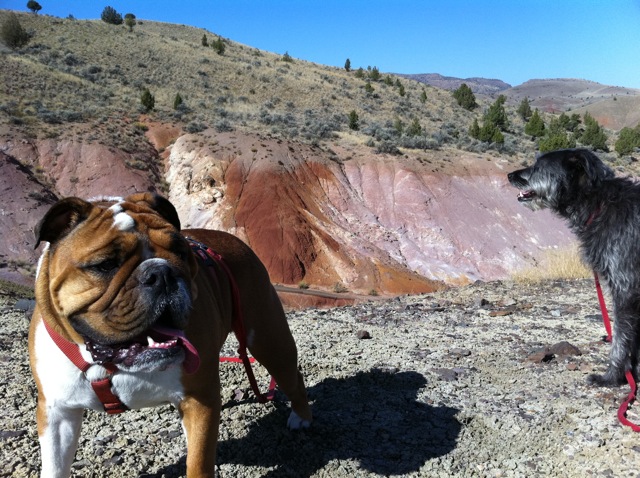 After our drive through the hills we found ourselves in Hood River, about an hour east of Portland, for the KU – K-State game, luckily on a Thursday and on ESPN. Unfortunately the game wasn't much to look forward to but the brewery we found, Full Sail, was quite the delight. Tasty food and many, many beers to sample. Not sure if I've said this before but everyone in Oregon is a HUGE hop fan and quite understandably so, as they grow them up here and have some of the freshest hop brews in the country. Hood River definitely found a place in our hearts, the city is sooo pretty bordered by the Columbia river, you can find many outdoor activities including their most famous, kitesurfing. The weather was perfect while we were there and this is definitely a place we would like to return to if we can manage a round 2 next fall.

We would have liked to stay a few more days in Hood River, however we had to be on our way back to Portland to catch M.I.A. concert which pretty much rocked my world. She is an incredible politically charged, funky, future-forward, British visual music artist. I met her briefly in 2008 when she came through Lawrence and performed at Liberty Hall, I snuck backstage and was thrown out just about as quick, but NOT before I could tell her what an incredible show she put on and how she rocked my night. She was really short.
After Portland, we made our merry little way down the Oregon coast. Definitely something everyone should see in their lifetime. Incredible cliff views and huge boulders, just like you see at the end of Goonies. We also managed to make our way to the Tillamook Cheese Factory for a tour and taste. I went through the sample line 3x, it was tasty! We headed as far south as Florence and then made our way over to Eugene to tailgate with the Oregon Ducks vs. UCLA. Brian also has a post about our times there.
After Eugene we were forced to drive south inland, rather along the coast like I would have preferred because of a mighty storm and 50 MPH winds on the coast. We spent the second part of Oct. staying at quite a few casinos for the free parking and subsequent poker if it was in the cards for us 😉 One night found ourselves in the middle of a Live UFC fight night, full of Ed Hardy and Affliction wearing tough guys, a town which seemed to be a population of 200, got all decked out for this night. I played in a poker tourney that night and busted out on the bubble. For the non-poker jargon peeps that means if I waited for one more person to go out I would have won money, but instead I went home with none :(… NEXT time!!
So along our casino crashing night we finally found a fellow RVer doing the same thing as us, or as he so eloquently puts it: "Quit Job. Buy RV. Kick North American Ass." Brenden, our Canadian counterpart, had a surprising amount of similarities, working in the technology/web world, ignoring the predestined future and comments from everyone around us saying you should climb the corporate ladder and feel warm and comfy with "job security" and plans to RV around North America for the next 2 years, which has also turned out to be a brewery tour for himself as well!! We had a great night sharing travel stories, people we've met, sketchy places that we probably should have thought twice parking in and how we now have an incredible heightened sense tuning into any little sound we hear. Seriously, every time i hear a wonky sound nowadays I think, what the hell is that!?" He is pretty much on the same path as us heading south so I have no doubt our paths will cross again. His blog rocks BTW, he is a really good writer, much better than I am, you should check it out at www.blimpyb.com.
From there it was south through the Redwoods, where it was still pretty stormy, but we managed to get lucky and find a 2 hour gap in the rain to make the drive of the Avenue of the Giants. We found what was one of the tallest trees, Founders Tree, fallen in the 90s measuring over 300 ft. tall. Incredible, again, something to not miss!! After Redwoods we drove through wine country and finally visited a few wineries. I loved a couple of shots of the valley with my Hipstamatic iPhone app.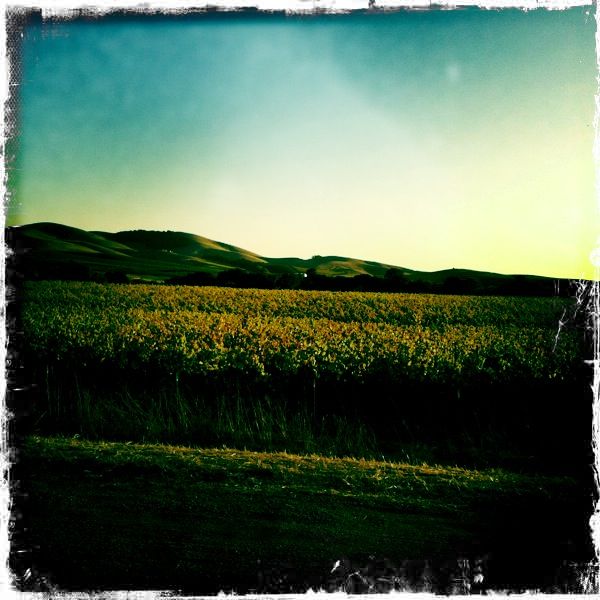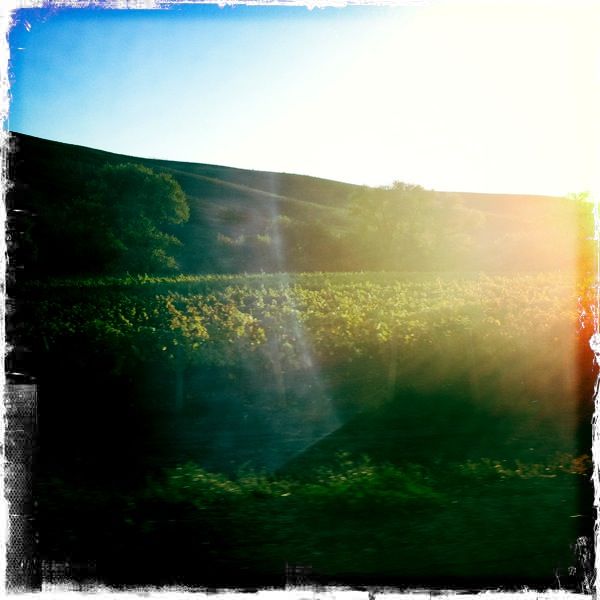 And the rest is history, hanging out with my cousin. Over the weekend she pointed us to the Yuba river where we took the dogs on a 3 mile hike on Hoyt's Trail. The river has huge white boulders and geological landscapes unlike anything I've seen before. Buddha has a great time chasing rocks in the river, sticking his entire head underwater, trying to fetch rocks. This guy just cracks me up!!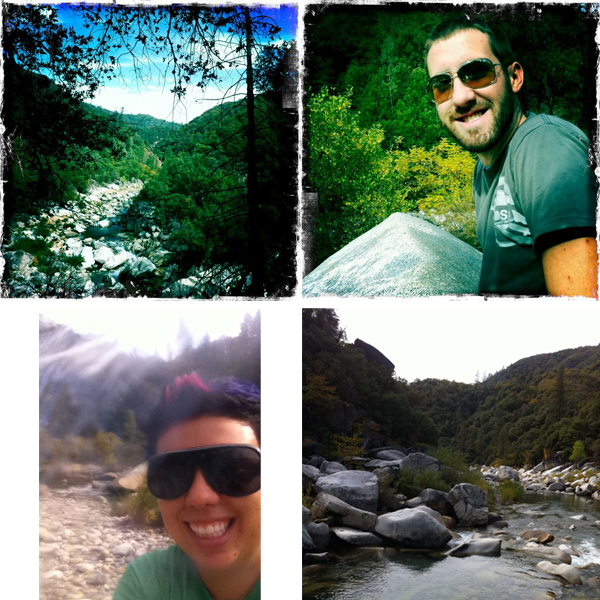 Thanks again for following. I will keep you posted on our times in SF, heading south on 101 from there. Life is good! 🙂

Share on Facebook