Posted by
msdesign21

| Posted in You trippin! | Posted on 08-09-2010
0
Helllllooooo again. Boy have we been busy travelers, covering well over 1,000 miles in the last week. There has been soo many things we've seen, we are both still scratching our heads as to how we never knew all these incredible places even existed.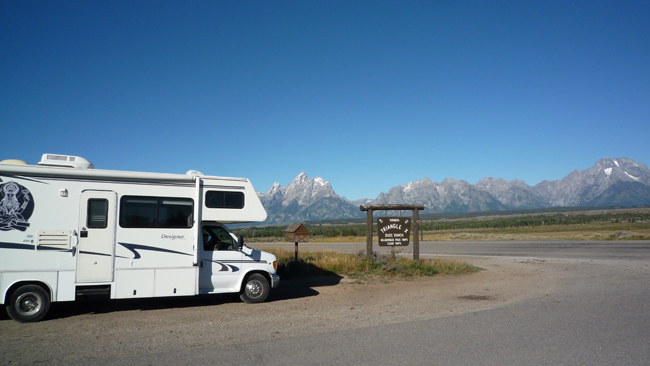 Our last post was just the beginning of our Jackson, Grand Teton, Yellowstone National Park adventure. The first night in Jackson we met up with our good friend Lizzie G's good friend Katie who so conveniently worked at our other good friend, Jen O.'s sister-in-laws ranch (did you get all that?!). We met at where else but the local Jackson brewery, Snake River. We had a great dinner and was given a tip about a remote camping spot not far from Triangle X Ranch that made for a most excellent backdrop and free 2 nights stay. The plateau is a favorite hangout for the Triangle X employees and they all joined us on our second night for a bonfire. It was definitely needed to as temps were really getting low up here over the weekend, the lowest at 24°.
Katie treated us to a float trip down the river along the tetons. Most of the photos below tell the story better than I can. The views have just been amazing, but when you come from Nebraska/Kansas a 10ft hill looks impressive. After the plateau we headed north to spend Labor Day weekend in Yellowstone. Thanks to some great tips from Brian F. and Adam M. we had a whole itinerary planned with plenty of must see stops to hit. Old Faithful was first, followed by the Prismatic Springs and numerous other "hot" destinations, as well as the waterfalls in the canyon. It was so cool to see how the scenery changed a number of times all within this one park. We are very happy we rounded through here and met some cool couples our last night from Colorado and Tennessee. Mark and I got to talking about Longmont, CO where he is from, and how we had stopped at Oskar Blues and Left Hand in Longmont on our way through and he was nice enough to share a fantastic bottle of barrel aged Brown Ale from Odells (Ft. Collins). We sat in their little pop-top van and shared the beer while their 2 year old Levi (super cute kid) finished his mac and cheese with hotdogs.
Monday morning we ended up leaving pretty early 1. because I thought i'd get to see more animals, but I didn't and 2. because we had to make our way up to Spokane, WA, 12 hours away, where the closest Sprint store was located. That cool little Sierra Wireless 4G mobile internet hotspot I purchased just about 30 days ago broke and we aren't too useful working from the road without it. Fantastically enough, Sprint was kind enough to inform me that without including a $7/mo. insurance plan there was simply nothing they could do and I would have to purchase a new device, this time for $300 (my first purchase was $100 bc I was a new Sprint customer and got a mail-in-rebate). Got to LOVE Sprint, so I kindly gave the manager some very polite choice words, walked out of the store and called customer service to add the insurance plan. Now we will wait 30 days for the insurance to take effect so we can get a replacement device like we deserve. In the meantime we will rely on coffeeshops and free wifi signals to get us through our days. Luckily, now that we are up in Washington a coffee stand is not hard to find at all.
Here are our photos from the past week. Thanks as always for following along!! 🙂

"Sept. 2-6 was a gooood time"
From Jackson Hole and Yellowstone, posted by Maria Scarpello on 9/09/2010 (100 items)
Generated by Facebook Photo Fetcher




Share on Facebook